Morakniv Wood Carving 105 is a knife for precision carving. Laminated carbon steel blade with an edge hardness of up to 60 HRC and a traditional handle made of oiled birch wood.
The through tang blade is made of unique laminated steel, which increases durability and makes it hold an edge longer.
The laminate owes its excellent properties to the use of high-carbon steel in the core of the blade, and the application of soft layers of alloy steel on each side.
Steel description from Morakniv homepage:
"This steel grade is unique for knives from Morakniv. The core of the blade is made of high carbon steel surrounded by a softer alloyed steel layer. A high hardness, HRC 58-60, can be achieved through hardening, and the result is in a knife blade with superior toughness and cutting edge retention. Thereby it reaches maximum sharpness and long life. The blade can also be bent into a predetermined shape, which makes knives with these kind of blades appropriate for woodcarving. The laminated steel's core has a carbon content of 1% and it's sides < 0,2%."

The knife has a narrow flexible 79 mm blade for precision work and for getting to those hard to reach places.
Morakniv Wood Carving 105 is a good knife for people who value good tools.
| | |
| --- | --- |
| Steel | Carbon, laminated (Morakniv) |
| Hardness HRC | 60 |
| Blade length | 79 mm |
| Blade thickness | 2,2 mm |
| Grind | Scandi |
| Total length | 170 mm |
| Handle material | Birch |
| Weight | 76 g |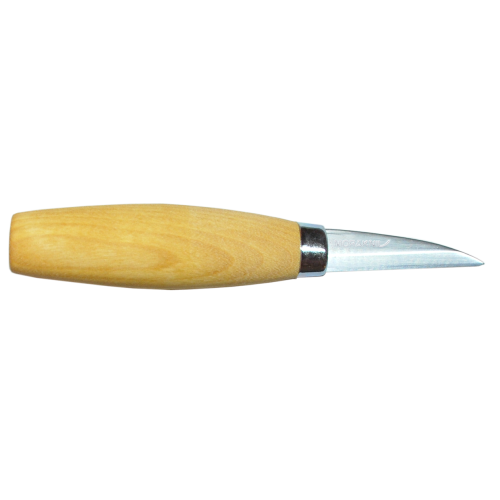 Morakniv Wood Carving 122 is a knife for precision carving and a good choice for people who value quality tools.
SKU:
106-1654 ,
Blade length:
59 mm ,
Handle material:
Birch
22,00 €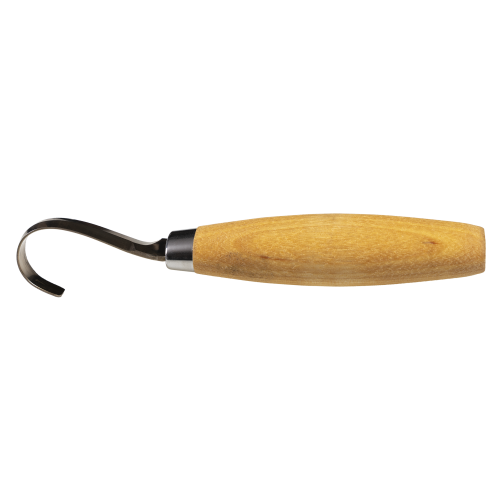 Morakniv Hook knife 164 is a curved spoon carving knife that makes carving spoons and bowls pure pleasure.
SKU:
13443 ,
Blade length:
80 mm ,
Handle material:
Birch
29,00 €