Proper full-tang knife with a blade measuring approx. 9cm long, straight and fairly round handle made to suit both large and small hands. The leather cord for the handle and a strong deep pocket leather sheath is included.

The blade is made of around 4mm thick Böhler K720 high carbon tool steel to make the blade extremely durable for heavy use such as log-splitting, or so-called "batoning" without making the knife to heavy or uncomfortable to carry.
The knife has a Scandinavian grind to make it very robust at the same time easy to carve wood with and easy to sharpen on a small flat whetstone/sharpener in the forest. The knife is a really good all-round tool for field use.

The handle is made of about 5000-year-old bog oak, dug up in England. It has a rough texture and the color tone can vary from pitch black to dark brown.

About the designer :
Roger Harrington is an experienced outdoorsman and knife maker who has taught Bushcraft and survival to civil and military customers for the last twenty years with his company Bison Bushcraft in Sussex, England.
| | |
| --- | --- |
| Steel | K720 (O2, NMV) |
| Hardness HRC | 58-60 |
| Blade length | 88 mm |
| Blade thickness | 4 mm |
| Grind | Scandi |
| Total length | 205 mm |
| Handle material | Bog oak |
| Weight | 156 g |
| Sheath | Leather |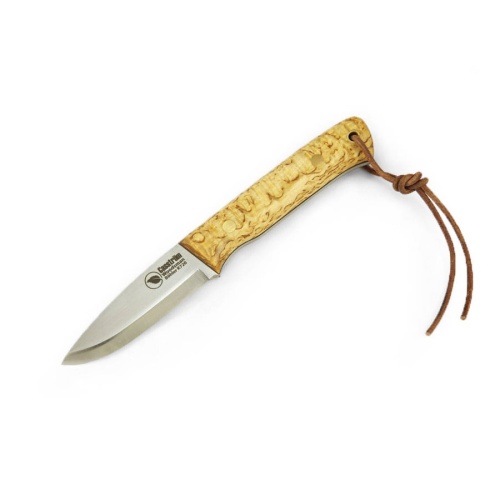 Woodsman, a new bushcraft knife from Casström! A classic wilderness knife designed by custom knife maker Roger Harrington, England.
SKU:
10804 ,
Blade length:
88 mm ,
Handle material:
Curly birch
138,00 €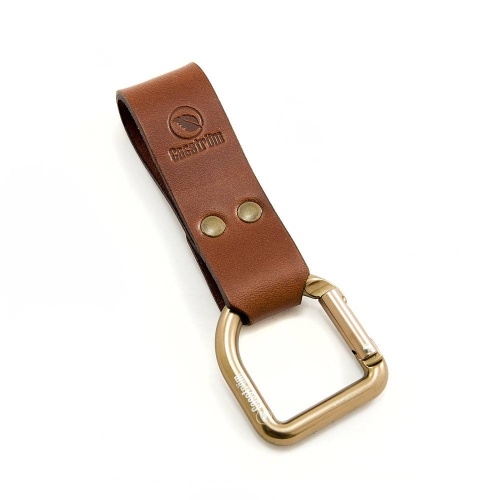 Casström's No.3 Dangler is an accessory to let your knife hang further down from the waist, dangle freely so that you can move easily and make handling on and off the belt smoother. The specially designed D-ring can also be used for other tasks.
22,50 €