A compact hunting knife featuring a 6cm stainless steel blade with a hollow grind. The blade is made using a full‐tang construction, features a tapered tang and is made in 12c27 Swedish Stainless steel (HRC 59).

The tapered tang and shape of the handle make the knife very nicely balanced and comfortable. The bright orange G10 glass fiber laminate handle is tough, waterproof and maintenance free.

Comes with a sturdy leather sheath. The design in combination with the materials used makes this a very beautiful but highly resilient piece of kit. Ideal as a small skinner for small deer and as a small belt knife for safari hunters.

About the designer:
Alan Wood has been a professional knifemaker since 1985 and has become the UK's most emulated craftsman due to his practical and attractive designs. Also well known for his collaboration with survival expert Ray Mears.

About the design:
"The initial concept was to attempt to design a hunter's knife that produced a tool of minimum dimensions which was still efficient in use. At first, it was for the large proportion of British deerstalkers who hunt for the smaller species such as roe and muntjac. However, it was picked up by others such as the Swedish hunter Jeppe Stridh as an ideal cutting tool for his country's elk hunters in combination with a forest axe. Further research has shown that it is an adequate and popular compact belt accessory for those on safari, hence the name. Basically, an easily carried tool that can be used to remove the viscera and to perform basic skinning to save a trophy cape when far from the vehicle's tool kit. " / Alan Wood

About the steel:
Sandvik 12C27 is a very popular stainless steel for Scandinavian knives due to its good combination of good edge performance (stability and ability to take an edge), high hardness and good corrosion resistance. Blade re-sharpening is easy and edge stability in terms of microchipping and edge folding or rolling is also good.
| | |
| --- | --- |
| Steel | 12C27 |
| Hardness HRC | 59 |
| Blade length | 60 mm |
| Blade thickness | 3 mm |
| Grind | Hollow |
| Total length | 170 mm |
| Handle material | G10 |
| Weight | 72 g |
| Sheath | Kydex |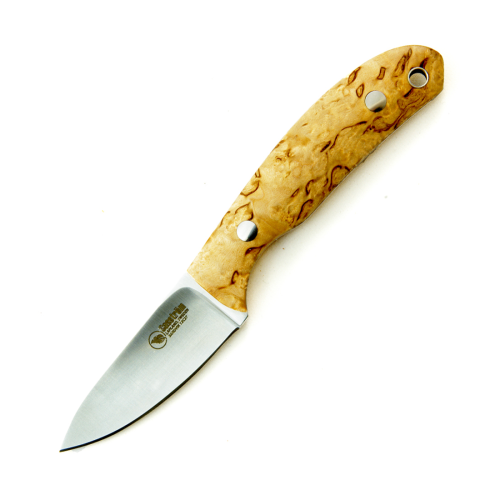 Safari - a small but competent knife from Casström! Designed by renowned English custom knife maker Alan Wood known for his hand made Bushcraft and Deer Stalking knives.
SKU:
10618 ,
Blade length:
60 mm ,
Handle material:
Curly birch
109,00 €