Roselli's first knife model, Hunting knife, with a durable Roselli UHC blade. Ultra-High Carbon=UHC is manufactured by Roselli and it maintains sharpness many times longer than ordinary carbon steel. That means that it is not necessary to sharpen so often and with UHC it is much easier to work with. Hunters have noticed this. It is possible to skin even two moose without sharpening. The hunting knife is a popular choice among hunters and campers and it can be used for whittling, cutting or handling fish or game. The heat-treated birch handle with a linseed oil coating ensures a firm grip, even when wet. The Hunting knife comes with a handcrafted sheath made from tanned leather.
| | |
| --- | --- |
| Steel | Roselli UHC |
| Hardness HRC | 64-66 |
| Blade length | 105 mm |
| Blade thickness | 3 mm |
| Grind | Scandi |
| Total length | 225 mm |
| Handle material | Heat treated curly birch |
| Weight | 122 g |
| Sheath | Leather |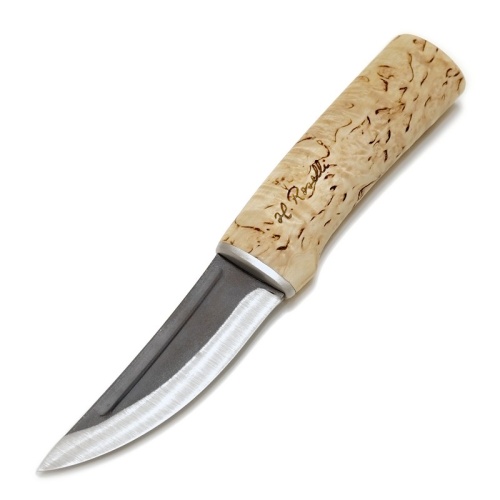 Hunting knife is Roselli's most popular knife and well suited for hunting and outdoor activities
SKU:
R100 ,
Blade length:
105 mm ,
Handle material:
Curly birch
125,00 €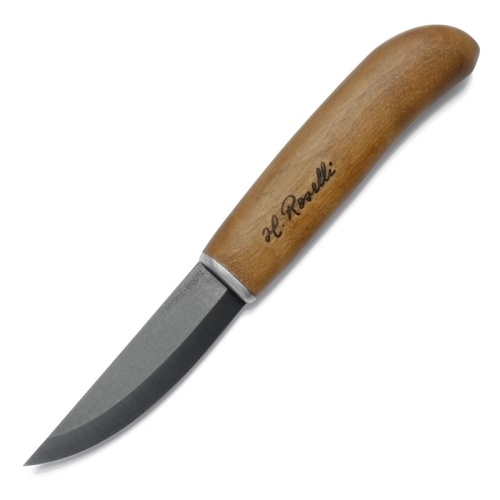 A universal knife of a convenient size, made from Roselli's Wootz steel. The Carpenter knife is suited for whittling, cutting and DIY-work.
SKU:
RW210 ,
Blade length:
85 mm ,
Handle material:
Heat treated curly birch
105,60 €
Laost otsas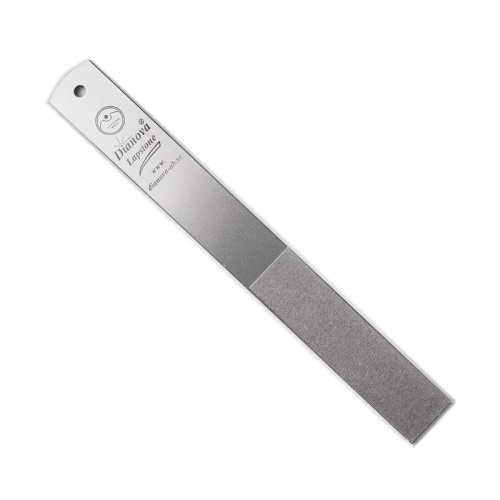 A Swedish-made professional-quality double-sided diamond sharpener with large diamond-covered surfaces.
24,00 €